Let The #RSD14 Celebrations Begin with supporting the Beverly Arts Center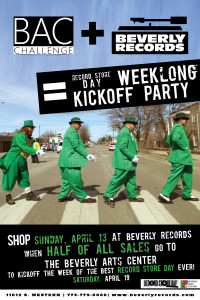 When our neighbor, The Beverly Arts Center asked if we would like to participate in a fundraiser to help them stay in their building, we jumped at the chance to help.  So Beverly Records, along with the help of Da Greens Brothers,  have dedicated  April 13 as BAC Challenge Day and kickoff for RSD14 Celebrations.
Beverly Records is donating half of our sales on Palm Sunday to help the Beverly Arts Center reach it's goal of paying off their $2 million dollar mortgage through grass roots donations.  This means we need your help!  Come in on Sunday April 13th and buy some vinyl, cassette tapes, 8-tracks, 45s, LPs, 78s, T-shirts, piano rolls, WLS surveys, or even Gulp.. CDs and know that not only will you be leaving with some great music, you will also be supporting your local arts center.
Sunday April 13 is also your chance to come in and our official kickoff to Record Store Day 2014 week celebrations.  Da Greens Brothers themselves may even be on here as Official Greeters! More information about our full schedule of RSD14 events will be coming to you as we get closer to April 19 so stay tuned!
All of us at Beverly Records consider Beverly/Morgan Park home since we have been unlocking that door on 116th & Western every morning since 1967. We are proud to support our neighbors.  The BAC Challenge is our opportunity to do that. So Please come out and help.