Beverly Records is always trying to take care of our biking vinyl lovers. In fact, our recent post about biking to Record Store Day received more attention than we ever though possible. Jack even thought it was good!
The only complaint was; Why did we make the route so short? Well if you don't have much to do after you pick up the latest Bee Gees 12″ or Foo Fighters new album then this is the route home for you.
Biking around Beverly and Morgan Park during the spring is a spectacular way to spend a Saturday. #alliteration  This route for Record Store Day starts at the 119th St Metra Stop heading west on 119th st will take you past the mid century home of Al Capone's driver. The house is for sale BTW and rumor has it, there is an escape tunnel that leads to the house next door in case The Fuzz shows up…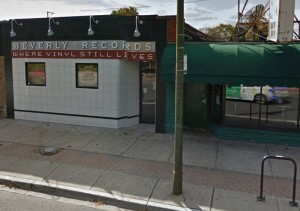 Once you get to our home on Western Ave, you will find plenty of bike parking on our popular rack and street light. We will have candy, snacks, refreshments and even some live entertainment so we encourage you to spend a few hours with us on Saturday April 18.
If you are like us and prefer to take the long way home, continue on our bike route to the campus of Morgan Park Academy. This beautiful high school was almost home to the University of Chicago, The University founder, John D. Rockefeller loved the Morgan Park area so much that it came down to coin flip as to where he would locate the University.  The coin flip ended very well for Hyde Park and Morgan Park got to keep our open spaces.
The reason Rockefeller fell in love with Morgan Park had to be the church's and the hills. When you get to 110th and Hoyne you will have seen plenty of both. As you head down the hill toward Longwood Drive. you will notice the former hunting villas of Chicago's elite lining the ridge on your left. These summer homes were once the wealthy's retreat from the smog, smells and sounds of Chicago. As you bike, picture the indian trail as it might have looked 130 years ago.
Continuing across the 107th st border into Beverly proper is where you will start to notice the architecture of the turn of the 20th century. Architect rock starts like Frank Lloyd Wright, Walter Burley Griffin,  H.H. Waterman used this area as their personal incubator for radical home design. Follow the route down Walter Burley Griffin Drive, the largest cluster of prairie style homes in the world, was almost even bigger. In fact plans were drawn to turn the entire block into affordable cottages using designs by Griffin. This plan never came to fruition but many of the homes were built.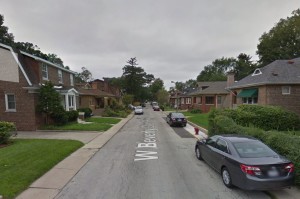 Welcome to East Beverly! Teh large front lawns and huge lots on Prospect St make way for Beverly Glen Parkway, probably the strangest street in all of Beverly, if not Chicago. With no easements and very small front lawns, the street has an East Coast feel.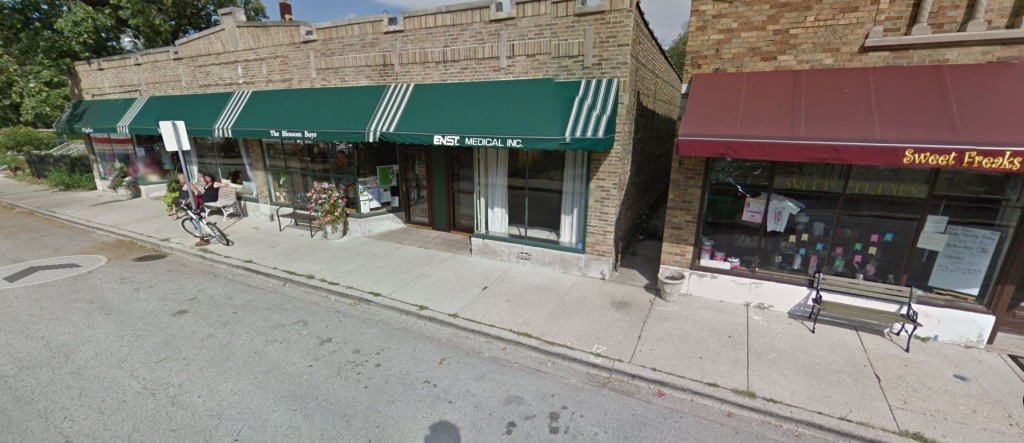 Along the Rock Island Line are plenty of small shopping districts, one that will get your attention is Walden Parkway. Homemade chocolates from Sweet Freaks, downtown styling from Tranquility, the best deep dish pizza in Chicago at Pizzaria Deepo and flowers for your significant other that can get you out of any jam from Blossom Boys make this eclectic group of shops one of our favorite stops.
Enjoy the view as you make your way to Ridge Park and through Central Beverly. At Leavitt street make a right  to enter North Beverly. North Beverly is home to some of the largest homes in Chicago but more importantly home to two of our favorite local businesses, Rainbow Cone and Hardboiled Coffee.
Make sure to stop in for a cone and then some of the best coffee around. The guys at Hardboiled are huge vinyl nuts and may even let you play some of your RSD finds on their house turntable!
Continue your tour through the hilly forest lined roads of North Beverly to your final stop, the 91st Street Station. Throw your bike back on the train and take a well deserved nap before getting back home to fire up your record player and invite your friends over to your place for a beer or three.
Or better yet, head north to Blue Island and over to The Rock Island Public House for their annual Record Store Day after party!