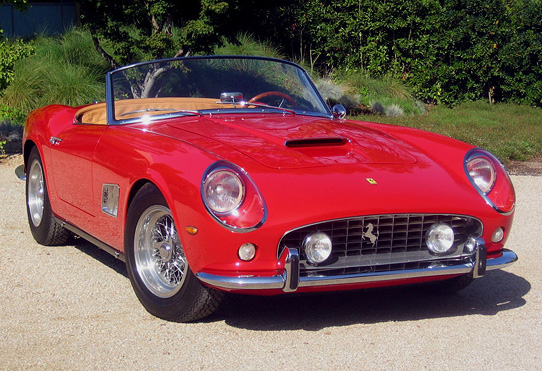 Picture this: A perfect Wednesday afternoon right about sunset, it's warm but not too warm, the wind is blowing through your hair. The sound of the Ferrari you are driving is more and more hypnotizing with every down shift
Mountains on the left, the ocean on the right and your destination is just ahead. As you pull up to the gate you get the wave from Jim the Security Guard. You talk about what a great season the White Sox had last year for a few minutes before driving up to the Villa that your friend from college bought a few years back.
You hear the youthful voices and splashes by the pool as you walk up to the main entrance. Your friend's butler, Wilson, meets you at the doorway with a Miller Lite in a can; cause that happens to be how you prefer your beer. You are greeted by your college buddy, talk for a few minutes about nothing in particular then he says "Hey check this out!"
You take the elevator down to the garage that happens to be an exact replica of Tony Stark's from that movie. Your buddy pulls out a pristine first pressing of Quadrephenia and the fun begins.
He hands you the record and you walk over this gorgeous Harry's Classic sitting on a  burled mahogany table.  You pull this blacker than black vinyl masterpiece out of the sleeve, you smell that familiar sweet vanilla sent of crisp paper and as you drop the $40,000 needle on the still glossy wax.  you hear that all familiar ocean, Roger Daltry is literally right next to you asking if you can "See The Real Me" as you turn to look; Charlie Watt's drum beat kicks your stomach out. You let this moment sink in because you are going to be telling this story around your next Michigan camp fire and you want to remember every single detail
Yes this is the dream. We realize that maybe one day this may happen to us, or maybe our grandkid's grandkids. BUT there is no need  to suffer without a garage record player like your buddy has in Northern California.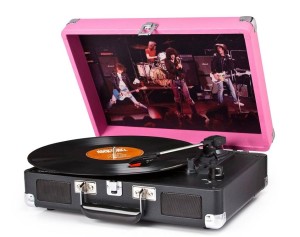 Thanks to Record Store Day, Inc. a limited number of Ramones themed portable record players by Crosley will be available coming this April. This is a record player that will fit perfectly right between the miter saw and the big pile of tools on your workbench. Why a garage record player you ask? We will be getting to that in the next few weeks during our semi daily posts.
But in the meantime dont ask "Why a garage record player." Ask, "Why not a garage record player." And could you think of a better way to pay homage to one of the best garage bands of all time than with this chromed up tu-tone soon to be classic?
Last year the Crosley Peanuts record player was sold out by 9 AM on Record Store Day, so get here early on April 18, we only have 6 on order and we expect these to go fast!
Features
NP6 Needle
Belt-Driven Turntable Mechanism
Manual Return Tone Arm
Plays 3 Speeds – 33 1/3, 45 And 78 RPM Records
Dynamic Full Range Stereo Speakers
Output – RCA, Headphone Jack
AC Power Adapter
Dimensions
Unit (L x W x H) = 4.63 x 14 x 10.5
Unit Weight (Lbs) = 5.5
Shipping (L x W x H) = 15 x 15 x 10
Shipping Weight (Lbs) = 9
The Crosley Ramones RSD15 Cruiser – $119.95