Beverly Records is always trying to take care of our biking vinyl lovers. In fact, our recent post about biking to Record Store Day received more attention than we ever though possible. Jack even thought it was good!
The only complaint was; Why did we make the route so short? Well if you don't have much to do after you pick up the latest Bee Gees 12″ or Foo Fighters new album then this is the route home for you.
Biking around Beverly and Morgan Park during the spring is a spectacular way to spend a Saturday. #alliteration  This route for Record Store Day starts at the 119th St Metra Stop heading west on 119th st will take you past the mid century home of Al Capone's driver. The house is for sale BTW and rumor has it, there is an escape tunnel that leads to the house next door in case The Fuzz shows up…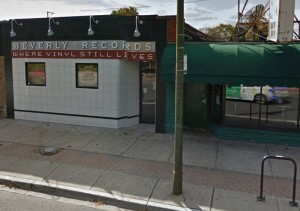 Once you get to our home on Western Ave, you will find plenty of bike parking on our popular rack and street light. We will have candy, snacks, refreshments and even some live entertainment so we encourage you to spend a few hours with us on Saturday April 18.
If you are like us and prefer to take the long way home, continue on our bike route to the campus of Morgan Park Academy. This beautiful high school was almost home to the University of Chicago, The University founder, John D. Rockefeller loved the Morgan Park area so much that it came down to coin flip as to where he would locate the University.  The coin flip ended very well for Hyde Park and Morgan Park got to keep our open spaces.
Read more