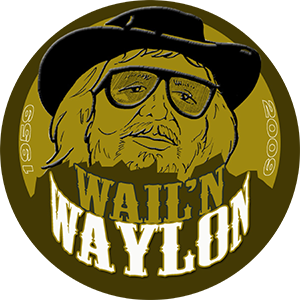 Good customer "Midlothian Scotty" has been coming to Beverly Records since the late 70s. He was always a big fan of Samantha Fox, in fact we kept an entire bin of Samantha Fox collectors items around just for him to browse. But no one, not even Scotty had any idea what would happen to him on that February day back in 2002.
From my pen to God's ears he was wakened from a deep sleep with a premonition of Waylon Jennings' passing. The force of this mysterious power took over his body and some say he received the Mighty Waylon's spirit.  Like anybody, Scotty was a fan of Outlaw Country but didn't really understand it.  When Waylon died, everything changed. He not only understood Outlaw Country he began to live it.
Scotty soon grew his hair like those people in Dallas, threw on a cowboy hat and there he was, a spitting image of Midnight Country himself.  He also found his voice, a voice none would argue sounds like Waylon Jennings.  Wail'n soon started making the karaoke circuit in the south suburbs and even has his gold microphone behind the bar at Dan D Jacks in Orland Hills ready to go whenever he get the notion to sing.
One night back in 2005 I was out drinking with Wail'n on the North Side at a bar called Howl at the Moon.  The place was packed, far more people than Wail'n was used to playing on stage for at Mickadoon's.  Wail'n had no intent to upstage the piano duo performing for the hundreds in attendance.  But the crowd was buzzing and started to gather around, getting autographs, snapping selfies, and shaking hands with Wail'n.  Soon the piano duo took notice and invited not Wail'n on stage but the Legendary Waylon Jennings on stage.
True, Waylon Jennings was dead now for 3 years but the crowd could see with their own eyes he was there with them.  They pleaded with Wail'n to sing and he finally gave in and jumped up stage.  He opened with a rendition on "Good Ole Boys." The crowd literally went nuts, he never sounded so good. He was so good that the piano duo selfishly cut him off after 30 seconds for fear that Wail'n would be who they remembered that night.
That night was never caught on camera so only those in attendance were able to experience Waylon Jennings reincarnated.  The good news is the Wail'n Waylon will be performing at Beverly Records on April 19th at 2 pm for the Record Store Day faithful.  Stop by Beverly Records and listen to the smooth sounds of the Chicago area's only Waylon Jennings Tribute artist. See you then!