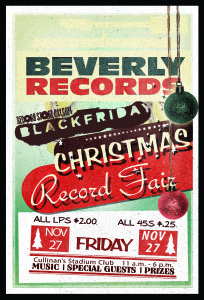 Black Friday Record Store Day is right around the corner and we plan to do something very special this year. In addition to stocking all the latest releases from your Back to Black Christmas list, we will be hosting our very first Record Fair!
The Black Friday Record Fair will take place right next door at Cullinan's Stadium Club. Aisles and Aisles of discount vinyl will be available for $2.00 each. Danny Cullinan will be serving up his world famous cheeseburgers and cold draft beer. We will also have an old school DJ spinning vinyl all afternoon long.
Think about it, while all your friends are fighting the crowds at the mall you could be here, at Beverly Records, doing all your Christmas shopping while drinking a beer, watching football and listening to your favorite tunes!
Black Friday Record Fair
Sponsored by Beverly Records
Cullinan's Stadium Club
11610 S Western
Friday November 27, 2015
11:00 AM – 6:00 PM